How Tile Can Modernize Your Laundry Room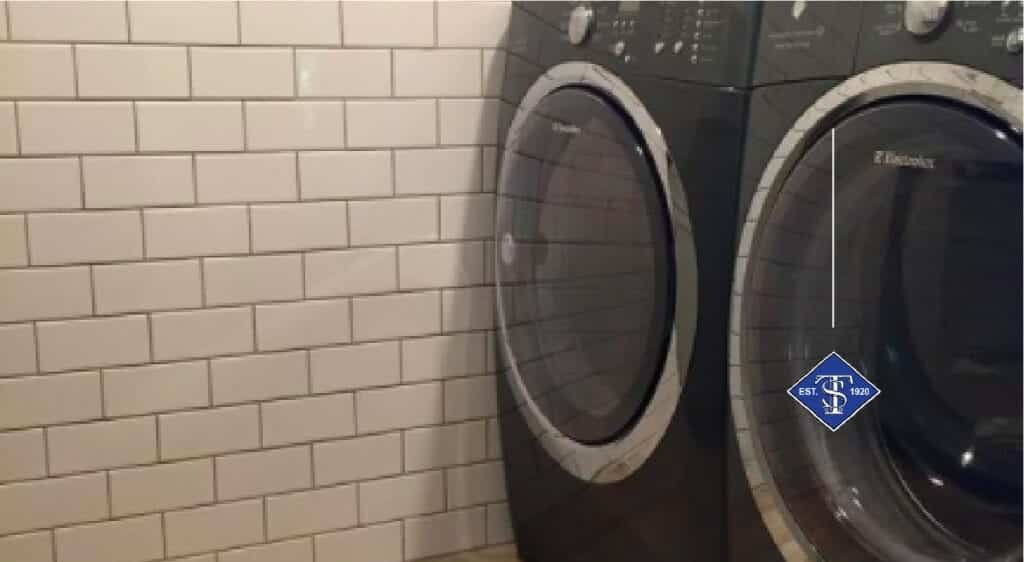 If you're looking for a cost-effective way to breathe new life into your laundry room, tile is the perfect solution. Specifically, laundry room tile is water-resistant, slip-resistant, bacteria-resistant, scratch and stain-resistant and more. Unlike the loads of laundry that occupy the space, tile is extremely easy to clean.
As an added bonus, laundry room tile is fade-resistant and engineered to last for many years to come. This blog will show how tile can completely modernize your laundry room.
Ways to Modernize Your Laundry Room with Tile
There are a number of ways you can incorporate tile in your laundry room for a distinct appeal.
Tile for Laundry Room Walls
While the obvious area is the backsplash behind your counter, you can extend the durability and low-maintenance attributes of ceramic tile all the way up the walls in the laundry room. This can also make the space appear bigger as most homes have small laundry rooms.
Use Tile for Laundry Room Flooring
Using one of the many laundry floor tile ideas can open the door to all the amazing intrinsic benefits of tile. You can add an extra level of slip and water resistance with porcelain tile for your laundry room.
Backsplash Tile for Laundry Rooms
Tile is perfect for protecting the area behind the countertop from stains and splashes. A tile backsplash is extremely easy to clean and will infuse an undeniable flair of style.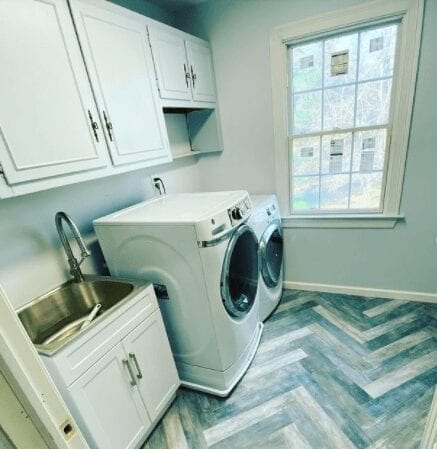 Tile Countertops for Your Laundry Room
Looking to create a gorgeous countertop for your laundry room? Consider the variety of tile that Standard Tile has to offer. In addition to being attractive, it's extremely durable and can stand up to virtually any spill the laundry room has to offer.
Show Your Personality with Wall Tiles for Laundry Room
Laundry room backsplashes are the perfect way to show off your personality. Because the laundry room is typically separate from the rest of your home, don't be afraid to try a dynamically bold pattern. You can also integrate an eye-catching mosaic or even something more off the cuff. For example, 3D tiles, arabesques and hexagons are all cleverly attractive accents and/or backsplashes.
Materials Matter for Laundry Room Wall & Floor Tiles
When it comes to laundry room wall tile ideas, it's not all about the colors and designs. The type of material you choose for laundry floor tile ideas or laundry room wall tile ideas plays a big part. And if you're looking to truly modernize your laundry room, it's ideal to think outside the box with your design, but also to think practically.
For example, a porcelain tile with a marbled design could be the perfect laundry floor tile idea to add an unmistakable air of elegance and opulence to a laundry room. You can even go out of your comfort zone and use a colored, patterned porcelain floor tile to create some character in your space. On the other hand, ceramic wall tiles for your laundry room walls are easy to clean, and come in an endless selection. Different materials, shapes, colors and finishes are all key to modernizing your laundry room!
Function vs Form? Get the Both with the Right Laundry Room Tile
With most home interior choices, you're forced to select between function vs form. In other words, the option that works the best usually leaves a lot to be desired in terms of style. However, when you're choosing a laundry room wall and floor tile, you can enjoy the best of both worlds — function and form.
For laundry room flooring, look for a non-slip porcelain tile, that does not need maintenance, that does not show dirt. This can be an excellent idea especially if your laundry room doubles as a mudroom. When choosing the backsplash or tile for your laundry room walls, easy-to-clean green, blue, pink, red, silver or metallic tiles are all in play. Simply put you can enjoy a tile that delivers the function and form your laundry room deserves.
Key Takeaways
Modernize laundry rooms by using tile on the floors, walls and backsplashes
Don't be afraid to infuse the homeowner's personality and style in the laundry room.
Do consider different types of tile materials to bring your design to life.
The characteristics of laundry room tile means homeowners will enjoy function and form.
Contact Standard Tile NJ
While the choices are endless when it comes to finding the right tile for laundry rooms, Standard Tile NJ is the best option for New Jersey based designers and homeowners. We are home to an expansive selection of the latest trends in tile backed by world-class service. Contact us today or visit one of our six showrooms.