The pairing of yellow and gray may surprise some people as these colors are not everyone's choice when designing their home. In this blog, we'll discuss how to effortlessly incorporate these colors with your home's tile.
The Mood and Color Psychology of Yellow and Gray
Yellow is associated with energy, sunshine and optimism. Gray is typically associated with being refined and dignified, evoking a sense of coolness. Kate Smith, designer and internationally recognized color expert, describes gray as calm and the "ultimate negotiator."
The New York Times reported, from the results of a study, that the color yellow evokes a sense of cheer. In this study, interior designers along with color psychologists built three makeshift bars, one of which was yellow. The individuals of the study then attended a cocktail party. The attendees that chose the yellow bar were more likely to be social and active at the party. Choosing a color at a cocktail party may not seem too scientific, but the results demonstrated that yellow does have an effect on mood.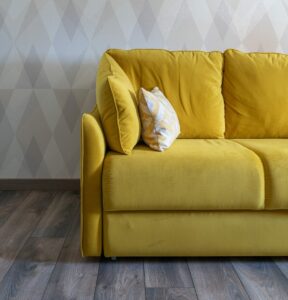 Studies have demonstrated that color matters in aspects of life such as attention and memory. A review of studies, detailed in "The Influence of Colour on Memory Performance: A Review," indicates that color is "believed to be the most important visual experience." One point made is that color plays a role in learning and academic achievement.
Bring these two colors together in tile options and create an eye-catching, interesting combination of influences and palettes.
Incorporating Yellow and Gray in Tile
The choices of yellow and gray may seem unlikely as the most popular color duo – and daunting to incorporate into tile design. But the truth is that they can easily complement each other in any room. Bring stone look gray tile to the walls of any living space and create a look and a feeling of strength and resilience. Add pale yellow accents to your backsplash to brighten up any room.
Yellow is not just for the bathroom anymore. Consider a yellow patterned tile to balance the living area on a fireplace surround or a hearth. Gray tile with natural veining may create an ambiance of peace and relaxation. Yellow tile in the kitchen can create a fun, energetic mood and when paired with gray provides a neutral balance.
There is no better time for relaxation than in the bathroom. Soaking in a tub with uplifting, warm yellow and cool, calming gray tile design can likely help bring a sense of serenity that many people need right now.
Takeaways
There is science and psychology behind color choices

Yellow and gray can be incorporated into any room or space to evoke strength, resiliency, warmth and energy

Bring understated elegance and positivity to a room with yellow and gray

Consider the room and space when choosing the type and size of the tile
Be sure to check out our gallery of images for inspiration. Contact us today to schedule an appointment with our Standard Tile design team.