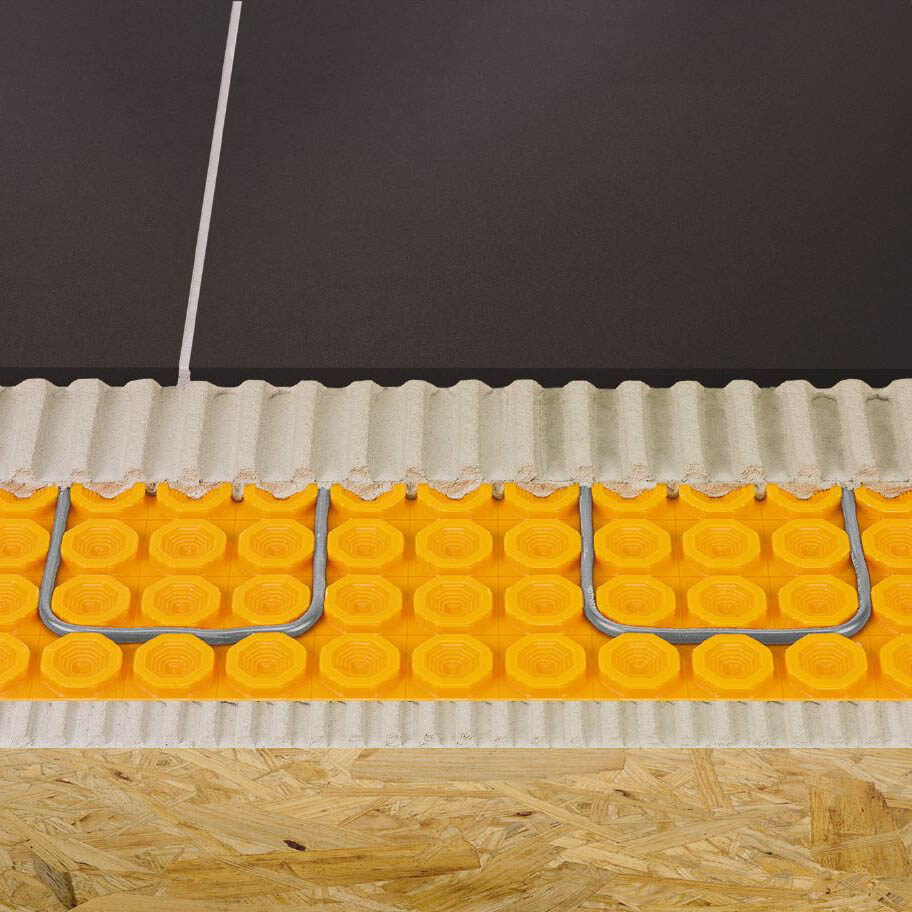 Warmth, beauty, and resilience underfoot
Combine the beauty and durability of tile with the comfort of an electric floor warming system to bring a touch of luxury into any room of the home. DITRA-HEAT is an electric floor warming system that directly incorporates uncoupling technology to ensure that floors aren't susceptible to cracked tiles and grout. Cables can be placed wherever heat is desired for customized heating zones, and no leveling compounds are required, which makes for a quick and easy installation.
SCHLUTER
DITRA-HEAT QuICK ESTIMATE
Get an instant quote for a SCHLUTER® DITRA-HEAT Underfloor Heating System.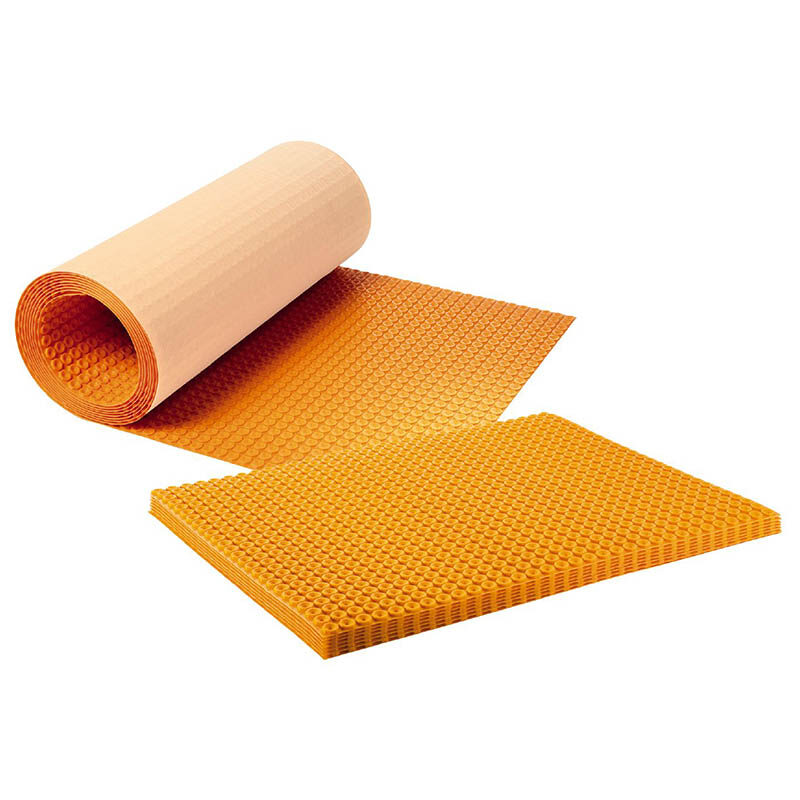 SCHLUTER
Uncoupling membrane
Schluter®-DITRA-HEAT integrates customizable, comfortable electric floor warming with the functions associated with DITRA: uncoupling, waterproofing, vapor management and support to ensure a long lasting installation.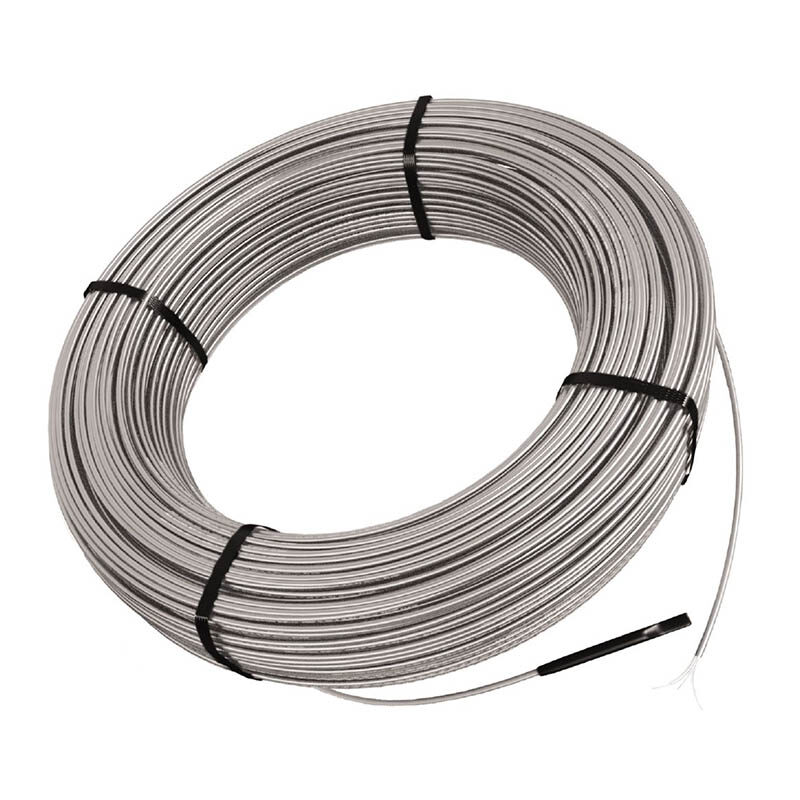 SCHLUTER
Heating Cables
Schluter®-DITRA-HEAT-E-HK are twisted pair heating cables designed for integration with the DITRA-HEAT uncoupling membrane in interior floor warming applications. The Cables snap into the membrane, so clips and fasteners are not required. In addition,  No self-levelers required to encapsulate the cables which results in significant reduction in installation time.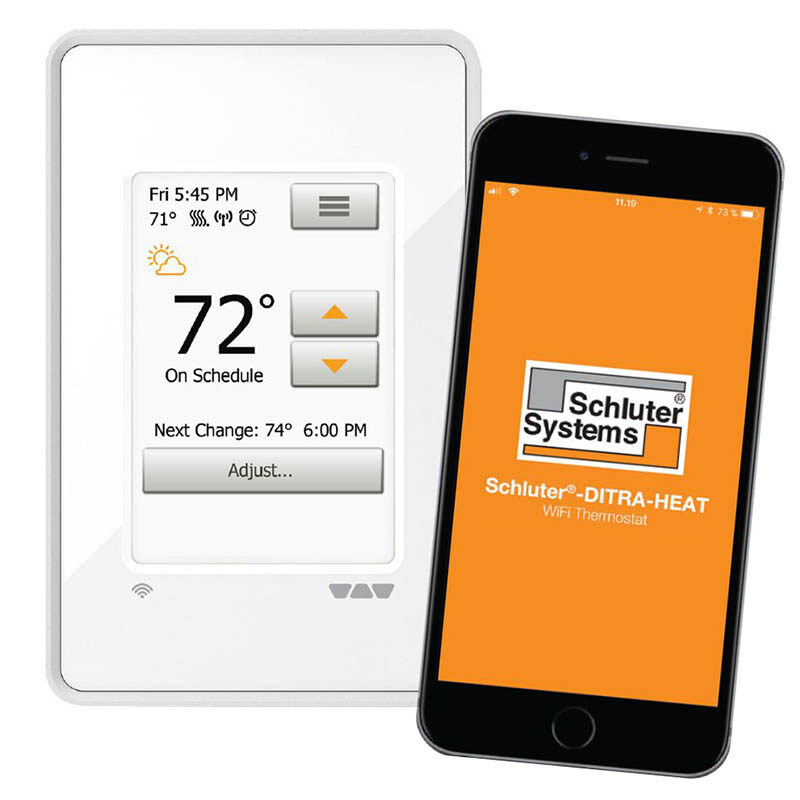 SCHLUTER
Control your heat from anywhere
Schluter® DITRA-HEAT-E-WiFi is a programmable Wi-Fi thermostat used to control DITRA-HEAT-E-HK heating cables. Easily control your floor heating system from your smartphone or online. The system also makes it convenient for you by displaying local temperature and weather forecast.

The #1 Electric Floor Heat Brand
Floor heating is the modern heating solution – creating the perfect temperature, making you feel warm and comfortable from the moment you enter the room. You can find a system that is a perfect match for your project from the Warmup underfloor heating product range. Warmup's systems are a result of over 25 years of experience and rigorous research and development. As a result, you can rest assured the best possible floor heating system on the market, with a Lifetime Warranty.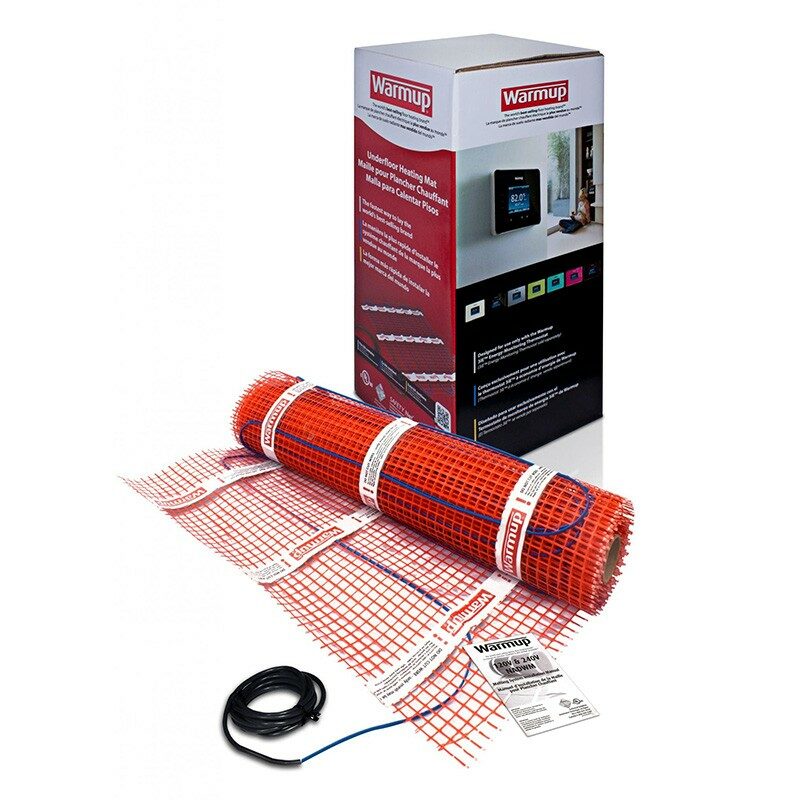 WARMUP
Electric System Quick Quote
Get an instant quote for a Warmup Electric Underfloor Heating System.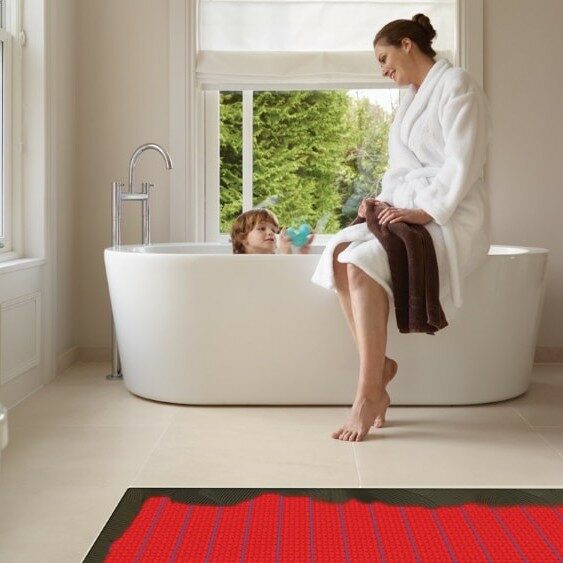 WARMUP
Underfloor heating is energy-efficient
Energy use in homes accounts for roughly 20% of all greenhouse gas emissions in the US and sustainable energy solutions are more important than ever before.
Warmup radiant heating systems and smart controls deliver unforgettable comfort under any type of flooring using less energy than central heating systems and with this increased efficiency, you can save money on your heating bills.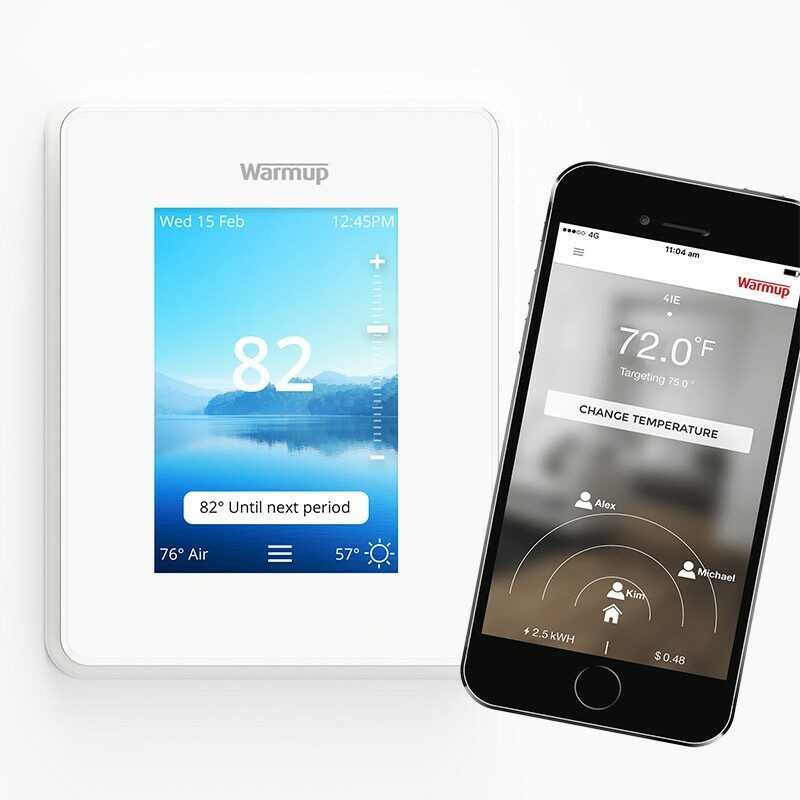 WARMUP
Control your heat from anywhere
The Warmup Smart Thermostats work with your smartphone to keep your house at the right temperature automatically. It uses the location services already built into your smartphone to calculate how long it will take you to get home and set the temperature accordingly.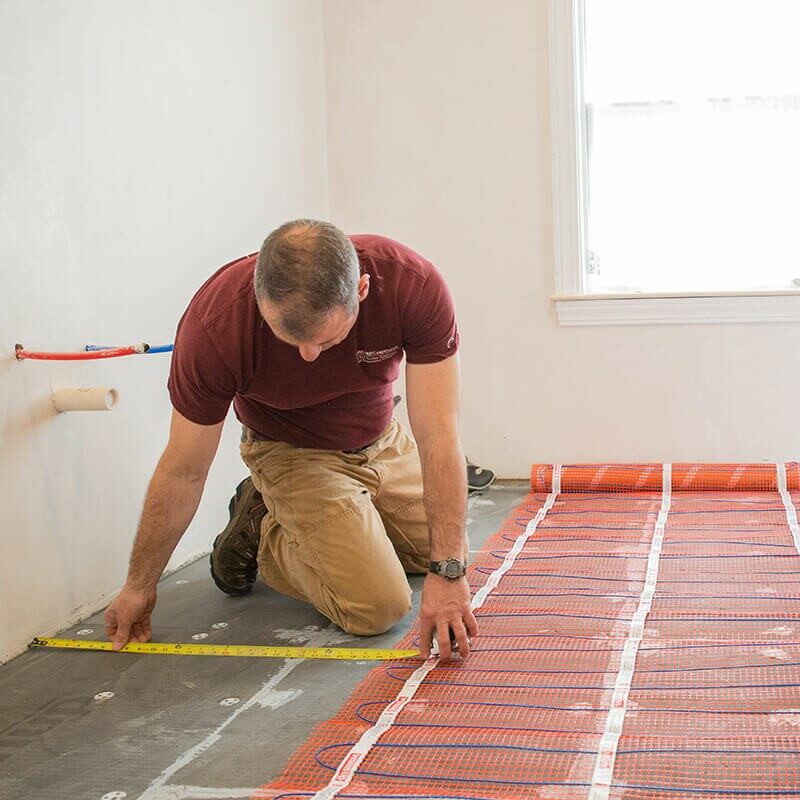 WARMUP
Easy Installation
Schluter®-Systems offers an extensive line of finishing and edge-protection profiles in a variety of shapes, colors, patterns, and sizes that open the door to limitless design possibilities and provide attractive alternatives to trim pieces. Schluter®-Profiles protect tile edges from cracking and chipping, eliminate the need for caulking, and provide easy transitions between the adjacent floor.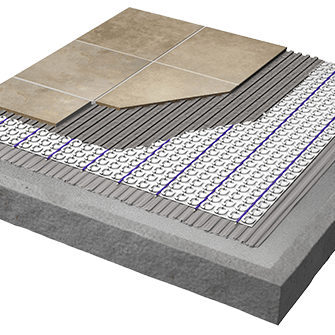 the most advanced radiant underfloor heating system
STRATA_HEAT™ floor heating system is the most advanced radiant underfloor heating system available in the world. Consisting of a high-performance floor heating wire, an uncoupling mat, a Wi-Fi-enabled thermostat, and the world's first heat conductive thin-set additive – the system provides you with the most advanced and efficient floor heating system for your next installation.
LATICRETE STRATA_HEAT
Room Builder
Use the Laticrete Strata_Heat™ room builder to discover recommended products.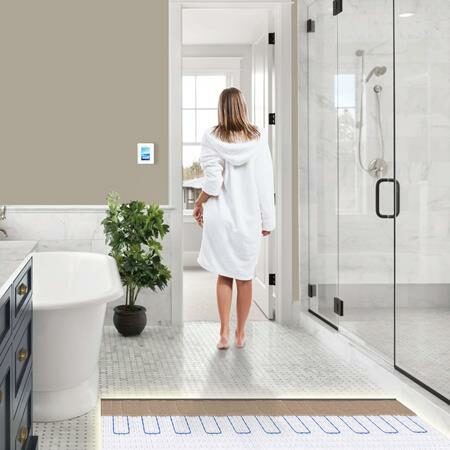 LATICRETE STRATA_HEAT
Lifetime System Warranty
STRATA_HEAT is part of the LATICRETE Lifetime System Warranty – providing you one source, one warranty from the substrate to the grout – no other company can match the innovative features or offer such a comprehensive line of products.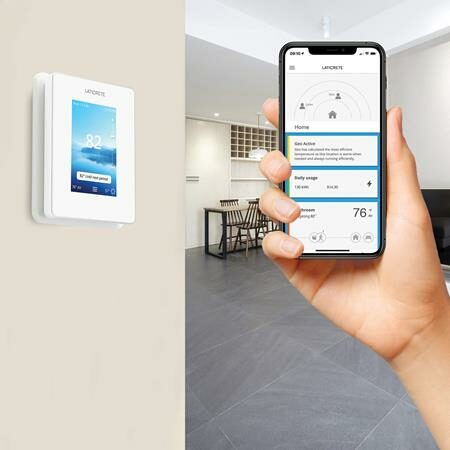 LATICRETE STRATA_HEAT
Smart LCD Thermostat
The Wi-Fi-controlled touch screen STRATA_HEAT™ Smart LCD Thermostat is a dual voltage 120V/240V radiant heat thermostat that is both easy to install and use.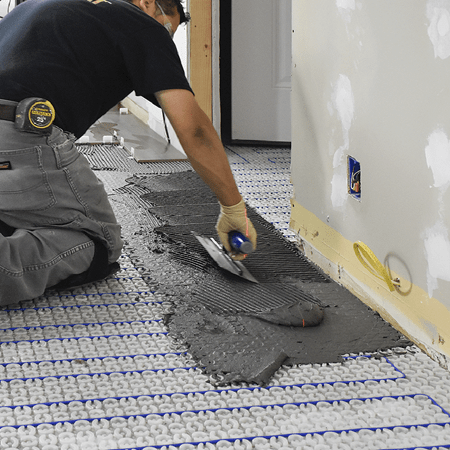 LATICRETE STRATA_HEAT
Thermal Pack
The STRATA_HEAT™ Thermal Pack is a patented additive that utilizes Thermal Diffusion Technology™, heat generated from the STRATA_HEAT Spliceless Wire is uniformly distributed throughout the adhesive, providing faster floor heat-up and a more comfortable and energy-efficient installation!