Underlayment
STRATA_MAT™
STRATA_MAT is a next-generation high-performance uncoupling mat for use under ceramic tile and stone installations, for both residential and commercial applications. It is designed to replace traditional underlayment materials. The unique patent-pending design of STRATA_MAT provides for an enhanced mechanical bond of the adhesive mortar and provides for faster drying of the mortar, allowing for a shorter time to grout. Specifically designed for use with both modified and unmodified mortars, STRATA_MAT allows for the proper adhesive mortar to be used with porcelain or large format tiles and stone.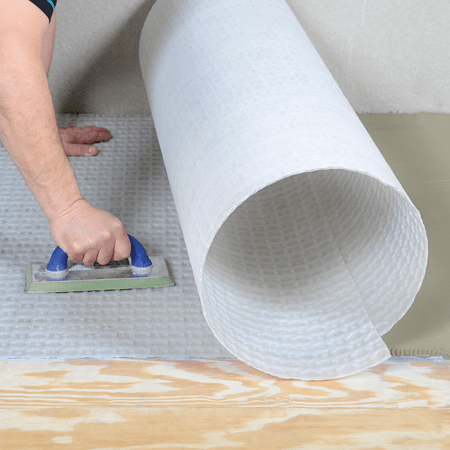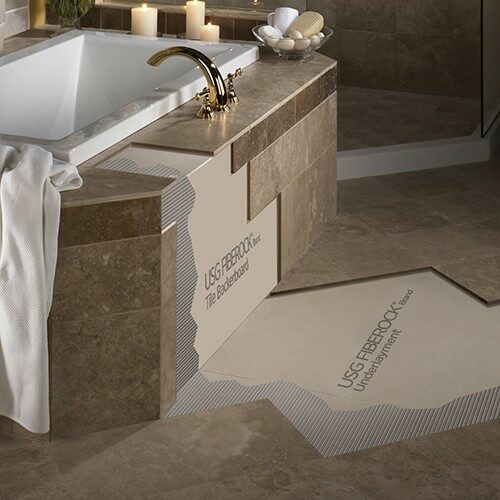 Underlayment
FIBEROCK® BRAND TILE BACKERBOARD
USG Fiberock® Brand Tile Backerboard and Underlayment panels are manufactured from an environmentally sustainable, specially engineered combination of synthetic gypsum and cellulose fibers. USG Fiberock Tile Backerboard and Underlayment panels have an integral water-resistant composition that offers durability, superior performance, and exceptional tile bond. USG Fiberock Tile Backerboard and Underlayment panels are engineered to meet water-, mold- and indentation resistance needs under and/or behind tile in new construction and/or remodeling. USG Fiberock Tile Backerboard is also an ideal substrate for painted wall surfaces when transitioning from tile to paint.
SCHLUTER
Uncoupling (Ditra)
Tile has been successfully installed for thousands of years by incorporating an uncoupling layer, or forgiving shear interface, within the tile assembly. Schluter®-DITRA membranes provide uncoupling through free space, which allows for in-plane movement that effectively neutralizes the differential movement stresses between the substrate and the tile, thus eliminating the major cause of cracking and delaminating of the tiled surface.