It doesn't matter if you're giving your bathroom a facelift or opting for a complete bathroom remodel, the style and color of the bathroom shower tile you select is critical. Your shower wall tile can be very simple and tie all the other bathroom elements together, or it can be a visual focal point, drawing the eye to a distinctive print or an elegant finish.
What is Bathroom shower tile?
Bathroom shower tiles are available in a range of durable engineered tile materials like porcelain or ceramic, or you can choose from natural stones like marble, limestone, or travertine. Of course, the best shower tile will be waterproof and is the perfect covering for creating beautiful shower stall walls, floors and ceilings.
Shower tile can be any size from 1 x 1 inch to as large as 30×60 inch depending on the look you're trying to achieve. Depending on the space and your style, your bathroom tile shouldn't be limited by size. Most commonly, a 1 x 1 to 4 x 4 inch tile is used for shower floors. This helps with making the floor less slippery due to more grout lines. 4 x 4 inch size tile and up is generally used for shower walls. The tile size will depend on the size of your shower and the aesthetic you are going for. 
One of the considerations you have to take with your selection of a bathroom shower tile is safety. Avoid selecting a tile for your shower floor that can become slippery when wet. A glazed shower tile that is slick and shiny may be perfect for a shower wall tile but is too risky for use on the floor of a step-in shower stall. Instead, select a shower stall floor tile that has a textured surface or a matte finish.
How to make your shower shine
Before you begin your shower tile installation, consider what you desire from your bathroom project. Are you looking to create the feel of an outdoor oasis, or are you designing a bathroom that is sleek and modern?
Either way, you will find a bathroom tile style, size, or pattern to fit your needs. Standard Tile offers a wide selection of inspiring bathroom tile to fit your vision.
The bathroom is a great place to mix and match patterns and colors of tile. For example, you can choose a hexagon mosaic for your shower floor, a subway tile for your shower walls, and a herringbone pattern for your bathroom floor. These can all be the same color, or you can use complementary hues.
There are so many shower wall tile options, you may be surprised at how much of a wow-factor it can add. A bold color or a fun pattern can be used to add visual excitement to the entire bathroom or to simply add a little touch of personality.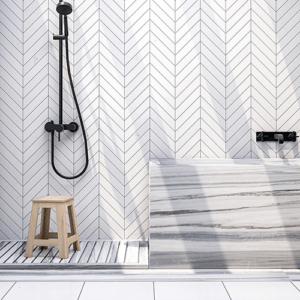 Tips on How to Tile a Shower
Consider these factors and tips on how to tile a shower:
After removing the old shower wall covering, don't forget to install a waterproofing membrane after installing the cement backer board when installing shower wall tiles.

When choosing a tile grout, consider whether you want a closely matched grout or if you want to create a more dramatic look with a contrasting grout color.

Don't take shortcuts, and never tile over existing surface materials in a shower or bathroom. Always strip the area clear of other materials.

Choose a shower tile installation that is easy to clean and a material that resists moisture and stains – such as ceramic and porcelain tile.

When in doubt? Reach out to a professional to install your tile.
Homeowners who are great at DIY projects can successfully pull off a shower tile installation. But, since these walls and floors will be responsible for maintaining the integrity of structural elements like floorboards and ceiling joists, a professional shower tile installation is recommended.
The best tile for shower walls
When considering the best tile for your shower walls, the sky's the limit. Since you don't have to worry about slick surfaces, a glazed tile would be perfect and can be easier to clean away soap scum.
The traditional choice for a shower wall tile is ceramic or porcelain. These are man-made materials and are designed to be extremely durable. This tile will typically have a clear glaze that is baked-on and provides additional protection to the tile's finish. 
Glass tiles have become popular for shower walls in modern-style bathrooms. These are also easy to clean materials and will offer reflections that create a unique look.
Less durable options for shower walls include marble or stone tile. Make sure the material is sealed after installation and on a regular basis to prevent water and staining.
Best Tile for Walk-in Showers
Your walk-in shower floor will likely require a different tile than what you have chosen for the shower walls and ceiling. This is because shower floor tile is chosen mostly for safety and ease of maintenance.
Most homeowners will opt for the smaller format tiles to lay on the shower floor. The smaller size means more tile grouting, which means more surface texture and better water drainage. The combination makes for a safer shower experience with better traction.
You don't have to learn how to tile a shower with hundreds of mosaic tile pieces. Instead, choose a mesh-mounted mosaic that is available in many shapes like penny round, hexagon, square and more.
The individual mosaic tiles are securely attached to a larger mesh backing for quick and easy shower tile installation. Also, mesh-mounted tile will flex without a problem. This means you can easily adhere the tiles to a slanted shower floor and pitch it to the drain without any issues.
Takeaways
The traditional choice for a shower wall tile is ceramic or porcelain.

Choose a shower floor tile that is small and not slick to reduce slips and falls. 

Although it can be a DIY project for the most ambitious homeowners, professional tile installation is recommended for showers. 
Visit Standard Tile NJ online to view our inspirational gallery of bathroom tile installations. Having a hard time choosing the best patterns and tile types, then consider our award-winning design services to help you create the bathroom of your dreams.