Do you want to make your bathroom truly stand out? Get ahead of the curve with these five incredible bathroom tile trends for 2023.
Remodeling your bathroom can increase the value of your home by 10-40% with the average being around 20%. Furthermore, most homeowners recoup up to 58% of the amount spent on the renovation. If your home is in need of repair but you're not sure where to start, consider this extremely important room first. 
There's also a great possibility you will get as much as 71% of your remodeling costs back when you sell your home. However, you will need to ensure your remodel captures the latest trends. More importantly, you may want to include trends forecasted for the upcoming year.
One of the main elements you'll need to get right is the style and type of bathroom tile you choose. This article outlines five bathroom trends for 2023. Read on to find out what they are.
1. Large Format Tile
Large format tile is one of the hot-ticket design items trending for the year ahead. Many designers are pairing large format wall tiles with large format floor tiles. The most popular material trending in large format tile is porcelain. The amazing thing about porcelain is that it can be made to look like almost anything, such as marble, concrete, onyx, etc.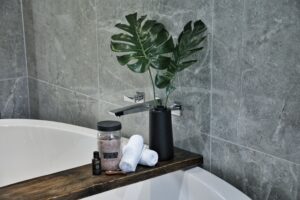 Large tiles in lighter colors can create a spacious feeling in a smaller bathroom. Pairing this with a dark colored floor tile can give your bathroom a modern, sleek finish. There are less grout joints with larger tiles which gives the room a clean, uncluttered look. 
2. Wood Tile
One of the more popular ways to include bathroom tile trends in your home is the use of wood tiles. Wood tiles are primarily made out of porcelain. This makes them unique because they provide the durability and functionality of regular tile but look like real hardwood.
Wood, due to its porous nature, is not a material that can be used for the walls and floors of a bathroom or shower. But with the innovation of this unique wood-look tile, you can incorporate wood finishes in spaces where they previously were not allowed. 
To accentuate the cozy look of wood tile, you can pair it with either matching or contrasting real wood cabinetry. It all depends on the type of tile you choose and the look you're trying to achieve.
3. Terrazzo
Terrazzo tile is also making a comeback. But this is not the terrazzo from yesteryear – modern terrazzo comes in a variety of patterns and colors that have caused it to gain so much popularity today. These include a range of colorful stones, glass, or marble chips, and even come in an array of shapes and sizes. 
You can use it for either your walls or flooring or both. But you might want to break up the design by pairing it with another type of material with a contrasting color.
4. Colors of Nature
The trending colors for bathroom tiles in 2023 utilize shades found in nature. These include softer, cooler hues along with darker more earthy tones. Both bring a feeling of warmth and serenity. This includes muted greens, terracotta oranges, warm yellows, and deep blushes. 
These colors help to create an ambiance that's conducive to relaxing. Something you'll want to do while having a bath or shower after a long day. 
5. Dimensional Variations
Bathroom tile with three dimensional qualities can easily become the star of your space. It's one of the reasons dimensional variations in tiles are one of the latest design trends. As with everything in our lives, technology has taken it to the next level, and tile is no different. Whether it's a rippling wave pattern or a 3D sculptural texture, it's a great way to experiment and bring a new feel to your bathroom.
You can choose from a variety of shapes, colors, textures, and materials. Dimensional tiles have elements that will certainly make your bathroom stand out, but we predict that this trend will last for many years. 
Getting on Track with 2023 Bathroom Tile Trends
Experts predict the remodeling frenzy of the last two years will subside in 2023. This might result in lowered material costs as demand wanes. It might be the perfect time to consider remodeling your bathroom.
Arguably, the walls and floors are the focal points of a bathroom. You'll want to ensure the bathroom tile you choose for each enhances your space. Use a trusted tile company that can guide you regarding the best tiles for this essential room of your home.
Standard Tile can do just that! We have a variety of bathroom tiles that can work with many design ideas. Schedule an appointment to get started on your bathroom remodel today!