Zellige tile has become increasingly more popular recently. It's perfectly imperfect, giving any space a one-of-a-kind look because each tile is different. Zellige tile was the early inspiration for the modern subway tile. 
"Zellige," the Arabic word for tile, was first crafted in Morocco in the 10th century and quickly spread around the world after the Spanish invaded.
The attention to detail on these handmade tiles will add a great addition to any home, including yours. They're unique and perfect for bringing a certain brightness to any room they're placed inside. Don't know where to start? Need a few ideas? Read on for a few of the best ways to get started.
Contemporary Design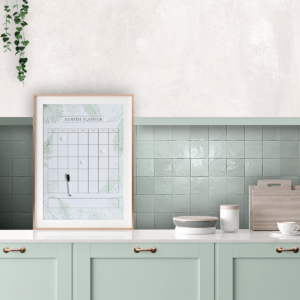 If the rest of your home is modern, there's no need to fret. Zellige kitchen tile can fit into any contemporary kitchen with a bit of ingenuity because they're often handmade, they have a very unique style. They're made with clay and water, then hand shaped, dried and kiln-fired. An enamel glaze is then applied and is usually colorful, so no two tiles are alike. When you choose Zellige tile, your design will be one of a kind, just like the individual tile. When choosing handmade Zellige tile, it's important to know that they are expensive because of the amount of work that goes into creating them. You get what you pay for, and these exquisite tiles are no exception to the rule. However, there are more economical, machine-made options available in the market today due to the rising popularity!
They're perfect for effortlessly creating a focal point, however, you need to pick the proper color and pattern. Playing up different shades of blue or green tile is a great place to start. 
Provide a Nice Contrast
If you're looking to add a pop of color to an otherwise neutral room, Zellige tiles are a great way to do it. Each handmade Zellige tile is unique which will add depth and contrast. The irregularities of each tile will provide character and make your home extraordinary. 
Strategically placed in certain areas, they're perfect for making an impact and adding comfort. Whether around your fireplace, at the end of a long corridor, or even as a crafty improvised trim, you can easily add vibrancy to your space.
Pattern With Color
If you'd rather add something visual, you can create patterns with color, such as a checkerboard, or go for a monochromatic look and allow the individual nature of each tile to shine. Zellige tiles are typically square or rectangular, allowing for a variety of patterns. Zellige tiles come in a plethora of colors and are perfect to do this with—especially in your bathroom. On the shower floor, ceiling, or even an accent wall, they're a great way to add visual interest to a space that normally goes unnoticed. 
Transform Any Area
If you're looking to bring a bit of the Mediterranean into your space, Zellige tiles are a great place to start. They can replace options like textured walls or wallpaper while still adding more visual appeal.
Whether you want to cover the walls of your bathroom with a vibrant pattern or keep it to a minimum with a Zellige tile backsplash, these tiles can easily win the hearts of many.
Is Zellige Tile Right for Your Home?
Do you think these tiles are something you could incorporate into your home? As a homeowner, looking for ways to uplift and breathe life into your home is something that's always welcome. They're also a great way to brighten things up without having to move away from your aesthetic, and you know they'll last for years to come.
Luckily, we're here to help. If you're ready to get started, schedule an appointment and we'll help you design something beautiful or stop in today to check out our selection of Zellige tiles!